Have you ever dreamt of an unusual accommodation and motionless travel? Our shepherd's hut in Brittany will transport you into the world of nomadic travelers. The shepherd's hut will allow you to satisfy your wanderlust in complete freedom and that do not attach them to any place. There is nothing more rewarding than a complete immersion into nature. Come to escape in our sheperd's hut in Soutern Finistère.
This gypsy caravan located in South Finister is very popular among couples with children (or not) and newlyweds. The beauty of the place has already given wings to some guests to propose to their significant other.
Of course, the caravan is cleaned/disinfected between stays.
Loading…
The Shepherd's hut in Brittany to live your dreams of wanderlust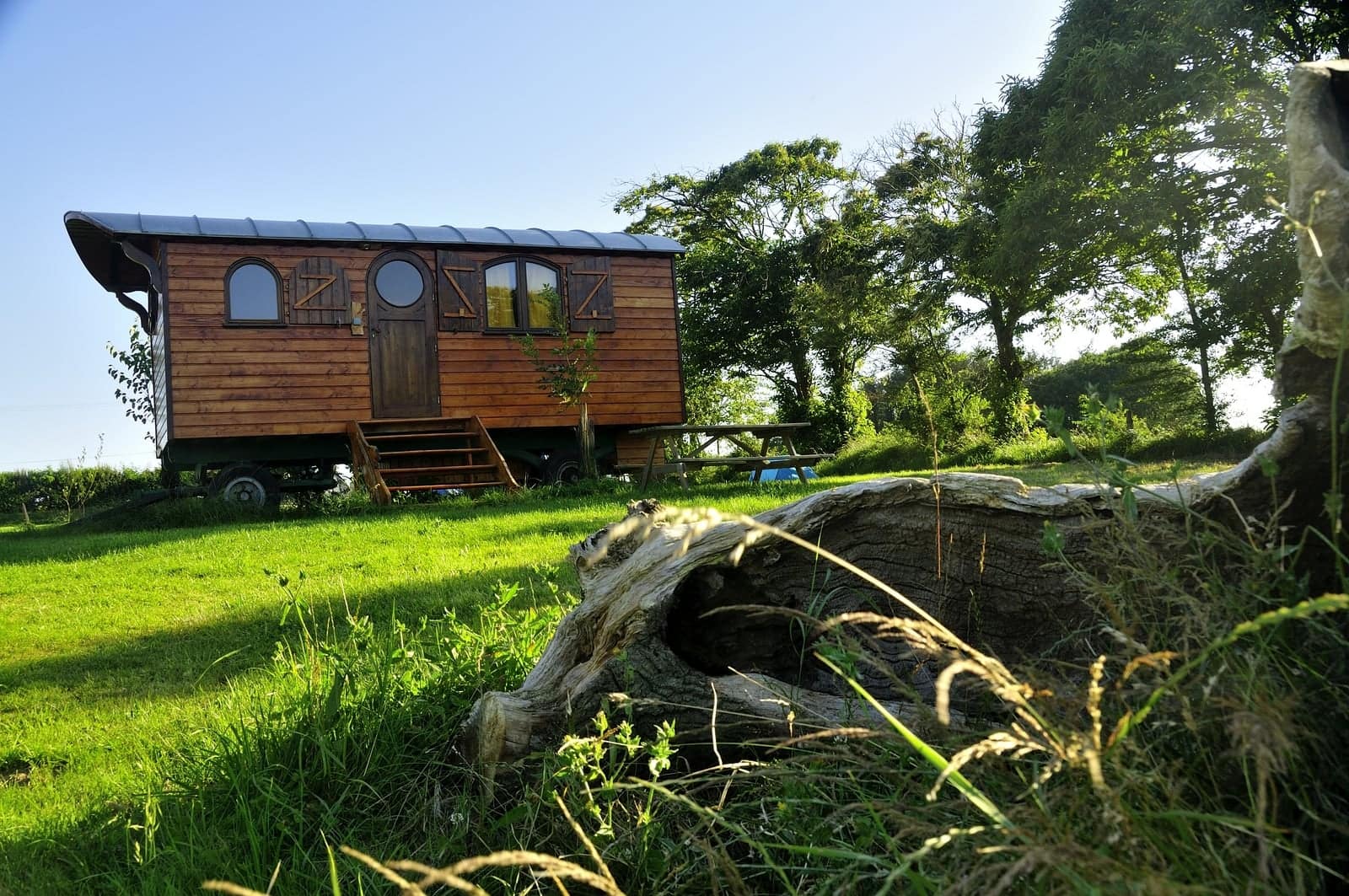 Our shepherd's hut in Brittany to live your dreams of wanderlust in Brittany is also an ecofriendly, sustainable, renewable and comfortable accomodation : heating, private bathroom and insulation with hemp wool and wood. The gypsy caravan is designed with quality materials and a wide variety of essences: douglas, acacia, maple, oak, alp, larch…
Rent by night or by the week, sheets are provided.
Our shepherd's hut in Brittany is a true gypsy caravan.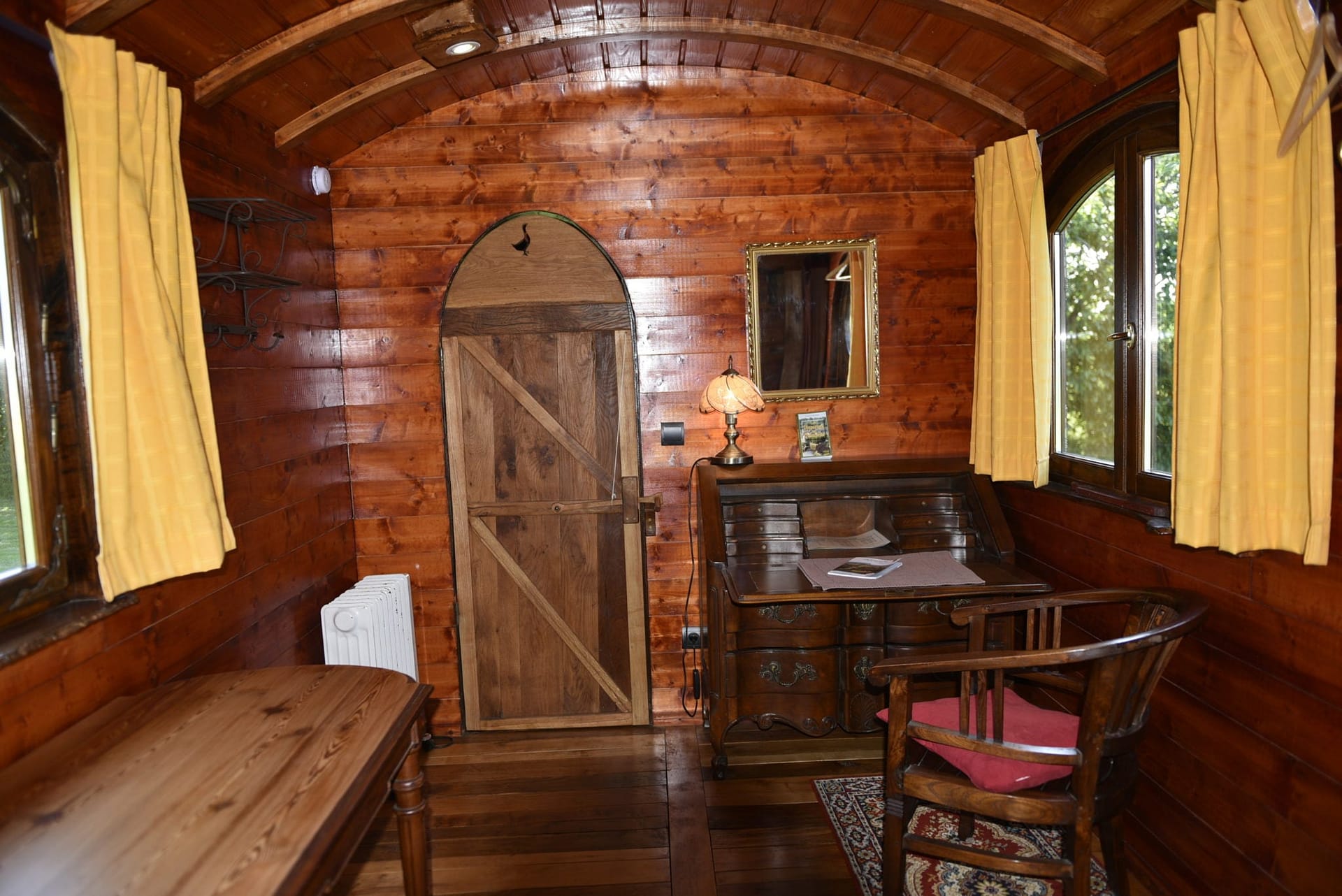 The gypsy trailer is heated.

A desk to store its belongings.
A table made of pine piche and its armchairs.


Caravan in Brittany: a large cozy alcove bed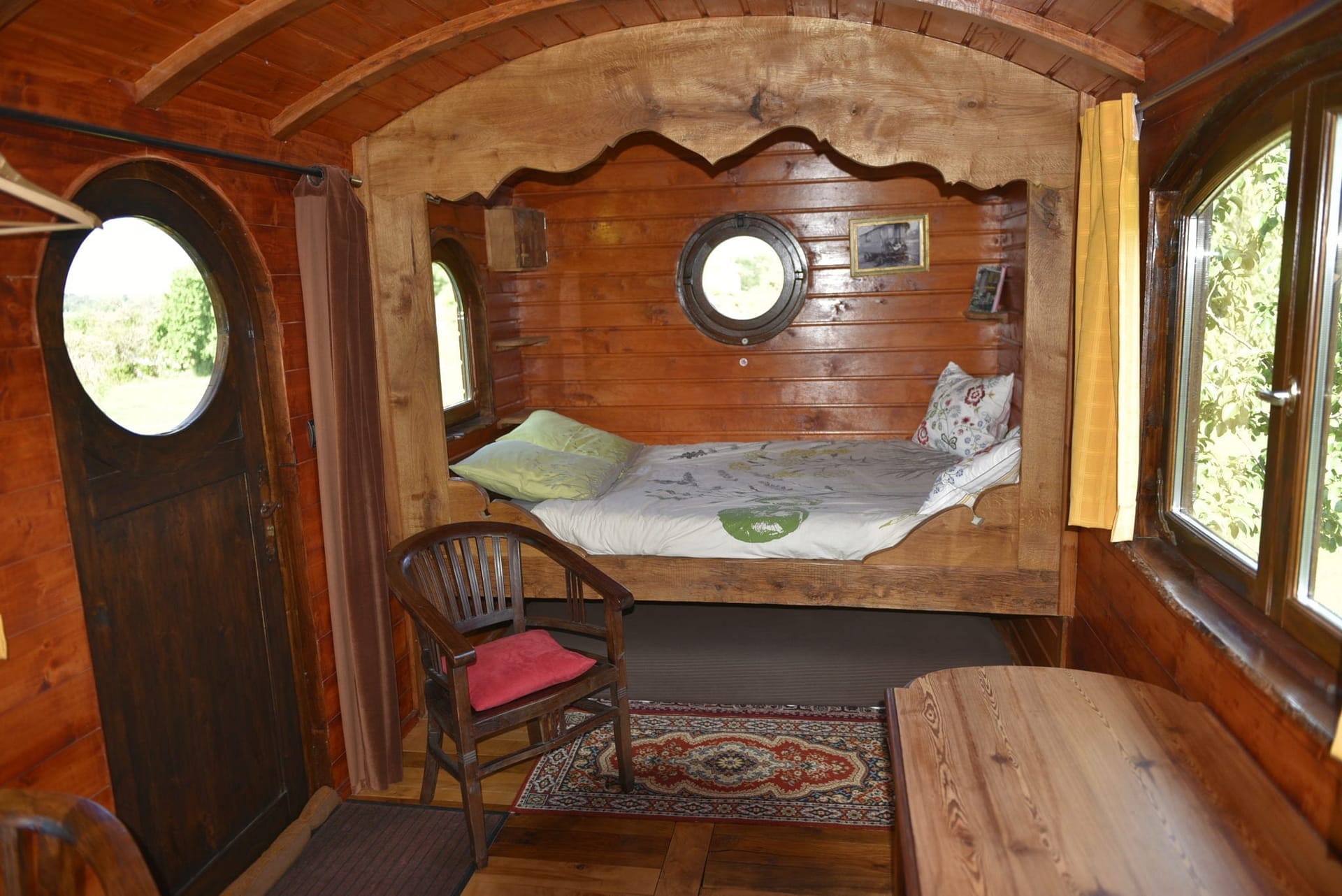 In our Finister trailer there is a BIG alcove bed of 1.40 x 2 m.

Plus an extra mattress if needed… particularly adequate for children.



Waking up in the Sheperd's hut with a view overlooking.
Like many unusual accommodations our trailer in Brittany is located in a beautiful and serene setting: you overlook the whole valley of Saint Mady, where the little stream of Quinquis runs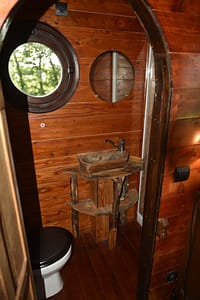 A wooden sink, a hot shower – toilet in the trailer.
You have access to the shared kitchen which includes hot plates, sinks, microwaves, refrigerator, coffee maker, kettle. This year, we can provide the necessary dishes, taking all precautions: dishes are stored in safe boxes and washed at 60°C : plates, glasses, cutlery, bowls within the limit of our stocks – one pan and one pan per family.

Availability of the Finistère sheper's hut :
Contact us: click HERE
Gypsy caravan price list
Number
of
persons
From April 1
to
September 30
1 ou 2
persons
77 € per night

2 persons
+
1 child
95 € per night

Cancellation policy
free of charge 10 days before your arrival,

To rent our unusual accommodation in Brittany, we accept cash and bank cards : American Xpress, Visa, Mastercard. Taxes are included and breakfast extra. 
If you want to be more independent, with your own kitchen and bathroom, you will surely like the Houseboat, Click HERE
You would better have a look at the Mongolian Yurts, Mongolian Yurts, Click HERE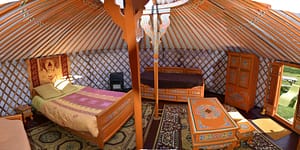 To return to the home page Click HERE
For an overview of your stay: Quimperlé-terre-Oceane