An unusual gite boat in Brittany by the sea but on land, well moored among the trees. It is an unusual accommodation in the middle of nature facing the trees to sail without having seasickness.
A gite boat in Brittany to sail to nature.
The boat is cleaned/disinfected between stays.
Loading…
Booking live, without intermediaries, at the best price.
Our unusual boat is back to welcome you.
Our unusual is a former fishing boat of the port of Lorient, built in Concarneau in 1975.
He was saved from destruction to relive and welcome you in the countryside and 15 minutes walk from the sea.
He came to our house on a stormy day in the winter.
In the morning or at night, when human activity is calmer, we hear the sea.
It is an unusual accommodation out of time : sea and nature atmosphere.
Around, green peaks, big duke birds, deer, weasels… and other rabbits, egrets, magpies and goelans.
The roof is reminiscent of an overturned boat as the old ones did on our islands.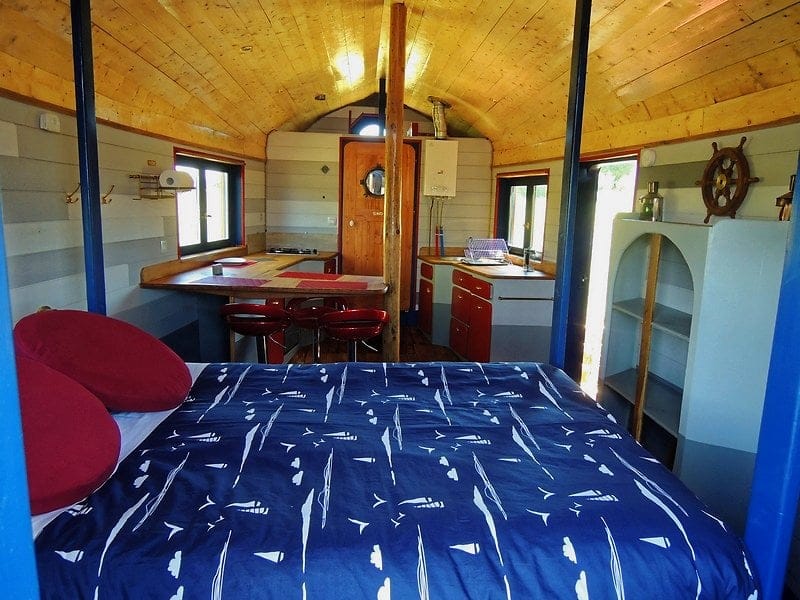 It is a comfortable and self-contained Brittany gite boat.
This unusual can accommodate up to 3 people.
Volumes are nice and spacious.
With kitchen, bathroom – toilet, dining area.
a big bed and a one-person bed.
It's heated.
You have water, gas and electricity on board.
Unusual accommodation and nature all comfort.
There's large bed of 200 x 140 and a bed of 90.
A closet for your belongings.
Your kitchen : with gas rings, sink, refrigerator and dishes: coffee maker, glasses, plates, cutlery, pans etc.
A dining area.
And at the bottom, the bathroom: sink, shower – toilet (hot water).
At the front, a terrace to enjoy the sunset with a drink: you head west.
Outside, on the access pontoon, sun loungers to laze near the menhir
A picnic table in the middle of nature.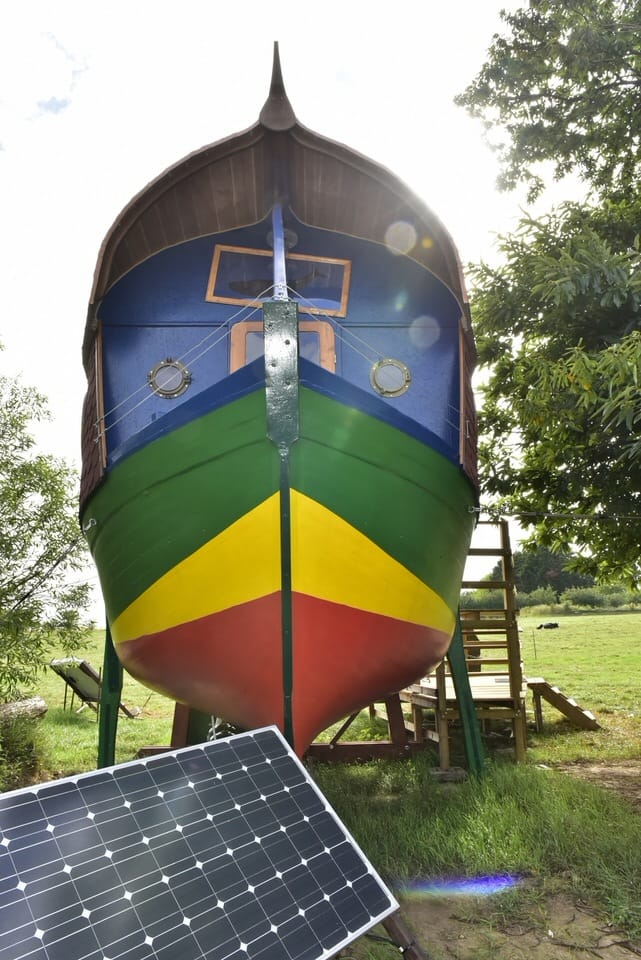 With 4 photovoltaic panels of 250 Watts each, you have enough to light up the whole boat and terraces and recharge, in 220 volts, laptops, DVD players and laptops.
Plant purification treats all wastewater without any release into the wild.
Gite boat in Brittany aviabilities :
number of nights
From March 15
to
October 31
One night
110 €
Two nights
200 €
Three nights
270 €
Four nights
340 €
Fivenights
400 €
A week
602 €
Cancellation
free of charge 10 days before your arrival.

Find out more about our Aréa : Quimperlé-Terre-Oceane
We also offer three Mongol yurts
or
Gypsy trailer or three BnBand a 4 people gite .